In the market for a new car?
Getting pre-approved for an auto loan before you set foot in a dealership can bring peace of mind—and save you green—during the sometimes-overwhelming car-buying experience.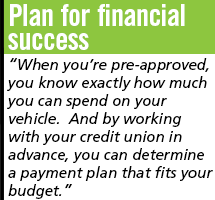 But this important step is often overlooked.
"If people get the itch to buy a different car, they usually call and check the rates," says Ben Wagner, member engagement manager at Dupaco's Pennsylvania branch. "But it is important for them to go that next step and get pre-approved."
How Do I Get Approved for an Auto Loan?
At Dupaco, you can apply for an auto loan online, over the phone or at any of the credit union's 19 branches.
There are many advantages to getting pre-approved:
Learn what's on your credit report. When you apply for a car loan, the lender will pull your credit report. This gives you an opportunity to address any issues on your credit report before you fall in love with your dream car.
Request a free Dupaco Credit History Lesson to learn how to build your score.
Find out your auto loan interest rate. Your credit score determines your auto loan's interest rate. The better your score, the lower your interest rate will be.
"You want to be educated on your credit score so you know where you sit before you go into the dealership, because your credit will play a key factor in the type of vehicle you can afford," Wagner says. "The rate difference on a vehicle loan is substantial as your credit score goes down."
Establish your vehicle budget. When you're pre-approved, you know exactly how much you can spend on your vehicle. And by working with your credit union in advance, you can determine a payment plan that fits your budget.
"A pre-approval puts into perspective the price range you want to stay around to stick with your budget," Wagner says. "Most people live with that payment for five or six years, so you want to make sure you have it set where it's affordable for you."
Dupaco members can choose between several payment options, including monthly, bi-weekly or even weekly payments for maximum savings. Calculate how much bi-weekly payments can save you in interest and loan term.
Simplify the negotiation. Getting pre-approved takes away some of the unknowns of car buying—your credit score, your interest rate and your vehicle budget.
"When you know where your payment needs to be, your negotiation tends to stay on the selling price of the car rather than on the interest rate and trade-in," Wagner says. "Then it's really about getting that vehicle at the best price that you can."