Boat & RV Loans
A Dupaco auto loan for your boat or RV can bring you a little closer to the great outdoors!
Dupaco offers multiple avenues for applying for a loan for new or used boats, RVs, and their trailers, including online and in-branch application and refinancing. Dupaco also offers financing for autos and motorcycles as well as other recreational vehicles. If you're ready to get the ball rolling, apply online and receive an instant 24-hour approval*!
*Approval subject to credit qualification. Response times may vary. In some instances, members may be asked to contact the credit union before a decision is made on their application.
Your boat or RV loan financing and refinancing options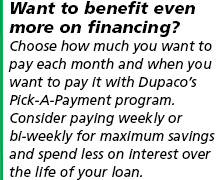 Choose from several ways to finance or refinance nearly any type of vehicle. When you bring an existing loan, currently financed with another lender, back home to Dupaco, you'll receive a great Dupaco rate, and a variety of loan terms to choose from, with personalized service you can count on. Dupaco is a not-for-profit credit union with better-than-traditional rates among the area's best. Plus, lower your loan rate through our Cooperative Loan Giveback, which rewards you with rate discounts for your credit union loyalty. See more information under the Rates tab below.
Dupaco makes applying for an auto loan a painless process, with several appointment choices. Simply give our Consumer Loans department a call at 800-373-7600 / 563-557-7600, extension 202, or stop into your nearest branch!