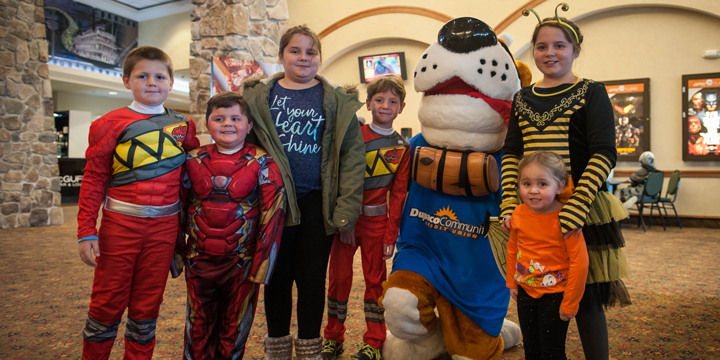 Young DoPack members pose for a photo with Dollar the Dog at a Dupaco-sponsored fall event in 2017.
(M. Jungers/Dupaco photo)
---
From costumes to candy, Halloween expenses can be downright frightful.
Americans plan to spend an average of nearly $87 on Halloween items this season, in line with last year's record spending, according to the National Retail Federation's annual survey.
Among the items being purchased: pet costumes. Nearly 20 percent of celebrants—or 31.3 million Americans—plan to dress up their pets this year, with millennials (ages 25-34) being the most likely to do so.
But you don't have to spend a lot to have a good time. Here are six simple tricks to help you save for a sweeter Halloween season:
6 tricks to help you save this Halloween

Take advantage of your membership.

Dupaco offers its members discounts to some fun destinations. Spend a fall day with your family—and save big—when you visit these locations this fall:
MORE: Learn how you can save at these destinations and other upcoming events!
Watch for discount days.

If your family enjoys outings, find out whether there are fall festivals in your area. Many times, these events are budget-friendly. Or, check to see whether the place you'd like to visit offers reduced rates during weekdays or daytime hours. If possible, plan your trip around those times to save even more.
Swap with others.

Ask friends and family members if they have costumes or Halloween decorations they're willing to swap with you. Turn it into a fun gathering by inviting a group of people to your home for a Halloween-themed swap party. That way, everyone walks away with some fresh Halloween gear.
MORE: Learn how to host a successful swap party.
Bargain shop.

You can find gently used costumes or the materials needed to create your own at a fraction of the price at consignment stores. Can't find what you're looking for? If you buy brand-new, take advantage of store sales and coupons to avoid paying full price.
Buy in bulk.

Candy can get expensive fast. Give your budget some breathing room by buying candy in bulk. You don't have to give away handfuls to each visitor, because your trick-or-treaters will have no shortage of candy in their pumpkin buckets. An estimated 70 percent of Halloween celebrants plan to hand out candy this year, the National Retail Federation says.
Plan ahead for next year.

Stock up on deeply discounted costumes and decorations the day after Halloween. You'll thank yourself one year from now! Until then, your kids will have fun playing dress-up with the post-Halloween deals you scored.
Top 10 Halloween Costumes for 2018

| | | |
| --- | --- | --- |
| CHILDREN | ADULTS | PETS |
| 1. Princess | Witch | Pumpkin |
| 2. Superhero | Vampire | Hot Dog |
| 3. Batman | Zombie | Bumble Bee |
| 4. Star Wars character | Pirate | Devil |
| 5. Witch | Avengers character | Cat |
| 6. Spider-Man | Batman | Dog |
| 7. Avengers character | Star Wars character | Lion |
| 8. Ghost | Ghost | Star Wars character |
| 9. Pirate | Superhero | Superhero |
| 10. Frozen | Clown | Ghost |

Source: National Retail Federation



By Emily Kittle