Two individuals have been awarded memberships to the Key City Creative Center to develop their skills and training, thanks to a partnership between Dupaco Community Credit Union and the Dubuque maker space.
Connie Fuerstenberg and Tina Sio, both of Dubuque, were selected among several applicants to receive the non-renewable, annual memberships.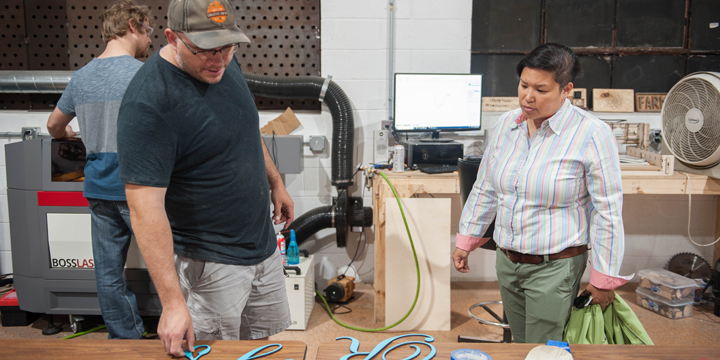 Owner of Key City Creative Center Tim Hitzler (left) gives Dupaco member Tina Sio a tour of the space on June 21 at Key City Creative Center in Dubuque, Iowa. Tina was one of two Key City Creative Center membership winners. (M. Blondin/Dupaco photo)
Key City Creative Center is a maker space that provides its members with a low-cost and spacious environment to build and collaborate on projects and ideas. The center offers equipment and classes on woodworking, welding, metal working, 3-D printing, pottery and sewing. Membership, which provides 24/7 access and use of equipment at the center, allows individuals to develop skills that might not otherwise be available.
Dupaco partnered with the Key City Creative Center to provide another opportunity for individual empowerment. The winners will have a space to create and develop products and establish partnerships with other local creators – which could lead to small business opportunities.
As a credit union benefit, all Dupaco members receive a 10-percent discount off monthly and annual Key City Creative Center membership costs.
"This partnership presents a great opportunity to provide invaluable resources to those who are thinking about starting a business or doing freelance work," says Dupaco President and CEO Joe Hearn. "As a financial cooperative, Dupaco gives members the tools and resources to move them toward reaching their goals—no matter where life takes them."
Applicants completed a questionnaire, which was available throughout May. Judging was based on the applicants' need and desire to improve their skills and their goal and plan for skill sustainability.