Don't Let Estate Planning Slip Your Mind
If you have children, you know how difficult it can be to find spare time. And when you do have a free moment, thinking about estate planning is just about the last way you'd like to spend it.
Estate planning is an easy task to procrastinate, and it seems most parents are doing just that. Only 42 percent of U.S. adults have estate-planning documents, according to a Caring.com survey. The figure drops even lower for those with children under 18—with just 36 percent having a plan in place, the survey found.
"Processing your own and your spouse's mortality is daunting enough, but having to think through what will happen to your kids if you are no longer here is very tough," says Jim Liddle, vice president, trust officer at First Community Trust.
Don't Let Someone Else Handle Your Estate Planning
But if you don't make those decisions, someone else will. If you die without a will or trust, most states have laws that determine what happens—including everything from who receives your possessions to guardianship of your children—for you, Liddle says.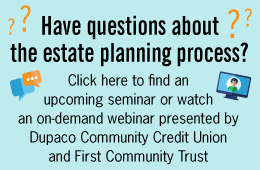 Earlier this year, a Wisconsin couple died from injuries sustained in a crash. They left behind twin 1-year-old boys—and no will to direct who would take care of their sons, according to WISC-TV. The parents' family must go through mediation and court to reach that decision. But the family hopes to turn their tragedy into a lesson to other parents about the importance of end-of-life planning.
"As cliché as this may seem, the hardest part is just starting the conversation," Liddle says. "Once you start the conversation, I believe a parent will find peace of mind in knowing that if the unthinkable happened, there is a plan in place, and that can be motivating to get the estate plan complete."
Starting the Estate Planning Process
Not sure where to begin? Liddle says you should consider these questions as you prepare to create an estate plan:
Who do I want to settle my affairs? That includes collecting and selling your assets, taking care of final debts, filing final tax returns and more. This person or entity is named the executor in your will.
Who do I want to take care of my children? This person is named the guardian in your will.
Who do I want to take care of any money I leave my children? This person or entity is named the trustee in your will.
What do I want the trust for the benefit of my kids to look like? Consider what reasons your children can get assets out of the trust, what ages they must be to do so and other special provisions you deem appropriate.
"It can be overwhelming for parents to think about estate planning, so speaking with someone who may help frame the conversation may be appropriate," Liddle says. "This can be advice from someone with First Community Trust, a service available through Dupaco, or another trusted person."
By Emily Kittle