Of course, private information should be treated as such. But it's easy to become complacent.
Data Privacy Day, Jan. 28, serves as a reminder to safeguard personal information every day.
Dupaco Community Credit Union's Jill Gogel, fraud services supervisor, says these four precautions go a long way in protecting your privacy:
Be aware of your surroundings.
Whether you're at your doctor's office, credit union or cell phone provider, be inquisitive when asked to provide personal information.
Always ask why your address, financial account number, social security number or other personal information is needed and how it will be used. Be mindful of who is nearby when it's requested. If you don't feel comfortable with the reason your information is needed, don't provide it, says Gogel.
"If you're more aware of your surroundings, you're going to have a better understanding of why they want your information and only give them the necessary information," she says.
Use caution with card readers.
It's also important to be aware of your surroundings when it comes to using ATMs or card readers at gas pumps and other locations. Fraudsters use skimming devices to steal information from debit and credit cards—and, eventually, the funds in the accounts.
Don't become a victim of skimming. Feel the card reader and PIN pad to make sure they are permanently attached to the machine and have not been tampered with. Look for a possible recording device toward the top of the machine, and cover the PIN pad as you enter your number as an extra precaution.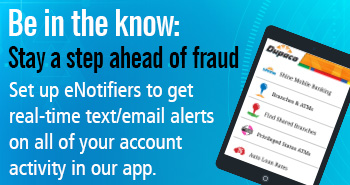 Monitor your accounts.
Keep tabs on your accounts to ensure your private information is remaining just that. Dupaco eNotifiers inform you of every transaction made on your account. If you get an alert of a transaction you didn't make, call Dupaco and get the account blocked before further damage is done.
"The more you're in tune with what's going on with your account, the easier it is to stay on top of fraud and prevent it," Gogel says.
You also can request a free copy of your credit report every 12 months from each credit reporting company at AnnualCreditReport.com. Request your report from a different company every four months to monitor your credit throughout the year.
Use a strong password for every account.
It can be challenging to create—and remember—strong passwords, but it can help protect your information. A strong password uses a combination of upper- and lowercase letters, numbers and symbols.
"Use a different password for every website you're using," Gogel says. "I know it's harder, but if you use the same one over and over again, fraudsters are going to figure that out and get to your information a lot easier."
By Emily Kittle