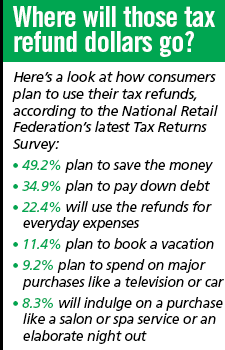 More consumers than ever are resisting the temptation to spend their refund from Uncle Sam this year.
According to the National Retail Federation's annual Tax Returns Survey, 49.2 percent of those expecting a tax refund plan to save the money — the highest percentage in the survey's history. Nearly two-thirds of those surveyed expect a refund.
Cindy Hilkin, consumer lending consultant supervisor at Dupaco, isn't surprised that more consumers are saving their refunds.
"Families have been living paycheck to paycheck, and you learn from that," she said. "This lump sum is a good cushion, because life happens and things come up."
If you'd like to get the most savings from your tax refund, here are four financially sustainable ideas:
By Emily Kittle