Young adults are spending money they don't have.

Millennials, those younger than 35, are the only age group with a negative savings rate, which has dropped to negative 2 percent, according to a recent CNNMoney story.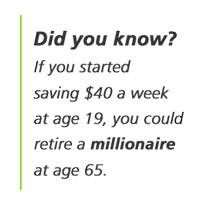 Here's the good news. With a little bit of help and some hard work, millennials can work their way out of the red and start laying the groundwork for a brighter financial future.

Dupaco Community Credit Union's Andrew Houy – a millennial himself who recently became a first-time homeowner – has five steps to help his fellow millennials practice sustainable money methods and reach their financial goals:
Identify future needs and wants. Start thinking about your goals. Do you want to own a house in the near future? How much will that down payment cost? When do you plan to buy your next vehicle? Where do you see yourself in five, 10, even 15 years? "It's not something that younger people are really too focused on, but it quickly rushes up on you," Houy said. "Making people aware of what they want is a huge step in the right direction."
Establish a game plan. "It's hard to get to the finish line if you don't know which direction to run," Houy said. Now that you've identified your goals, start saving for them. In the beginning, set small, realistic goals. Maybe you start saving $50 a month or $10 a paycheck. Right now, it's more about establishing sustainable money habits that will move you in the right direction.
Utilize the tools that are out there. Take advantage of Dupaco's various savings accounts. Establish an Individual Retirement Account with as little as $5. Utilize your employer's 401(k) program, many of which offer matching contributions (free money!). With any savings plan you establish, it's important to save automatically and systematically. In other words, set it and forget it. "The idea is to take the tools that are out there and put the money where it will benefit you in the future," Houy said. "It really only takes a little bit of money and a little bit of effort to get enormous results."
It's OK to spend only what you have. A budget can be your best friend. Schedule a free Dupaco Money Makeover to learn where your money is going and identify areas you can cut costs. Keep tabs on your accounts by using Dupaco's eNotifier Alerts and eStatements. It comes down to debits and credits. "It's OK to set your goals and work hard to get there. If you're not making enough money to get it done, find a way to make more income," Houy said. "Nothing substitutes hard work."
Attack debt as a form of future savings. Another way to approach savings: Aggressively attack the debt you have. If you have student loans or credit card debt, making minimum payments will bleed your budget, Houy said. Start paying a little extra each month to reduce your debt faster and move toward savings and financial freedom.
By Emily Kittle