The Iowa Credit Union League has determined the following candidates are among those who have best exemplified the positive advancement of credit union issues. The league's analysis is based on a candidate's record on important consumer finance issues, positive history of credit union interaction, and answers to a credit union questionnaire that the league sends to all candidates.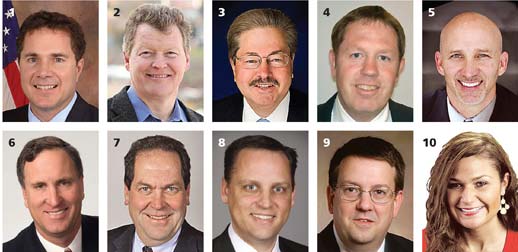 | | |
| --- | --- |
| 1. Bruce Braley: Iowa candidate for U.S. Senate | 6. Lee Hein: Candidate for Iowa House |
| 2. Pat Murphy: Iowa candidate for U.S. House of Representatives | 7. Bob Kressig: Candidate for Iowa House |
| 3. Terry Branstad: Candidate for Iowa Governor | 8. Chris Hagenow: Candidate for Iowa House |
| 4. Tod Bowman: Candidate for Iowa Senate | 9. Kraig Paulsen: Candidate for Iowa House |
| 5. Walt Rogers: Candidate for Iowa House | 10. Abby Finkenauer: Candidate for Iowa House |

Is Dupaco or the Iowa Credit Union League telling me for whom to vote?
No. Dupaco and the Iowa Credit Union League merely provide additional perspective for members to consider in making independent and informed decisions.

As an organization rooted in self-governing principles, Dupaco does foster an environment of informed and active citizenship. Therefore, our website also features links to register, vote or contact elected representatives. Your voice and your vote do make a difference.

Do credit unions favor a particular political party?
No. In fact, credit unions' historical political support is almost equally distributed between Republican and Democrat candidates. Of the 10 candidates featured here and in the October 2014 Dupaco Owner's Manual newsletter, five were Republicans and five were Democrats.
Dupaco is chartered in and affected by Iowa law, thus focuses on candidates in that state. In the interest of space, we feature ten of the candidates who represent districts with a large population of Dupaco members. See the complete list of candidates supported by the Iowa Credit Union League.