The Dupaco Experience
Working at Dupaco means more than just making a paycheck–it's about making a difference! We are a not-for-profit, member-owned financial cooperative that helps our members save money—through lower loan rates, fewer service fees, low-cost insurance, the list goes on—growing the whole credit union. We put our members first each and every day, focusing on improving their financial lives.
All about that teamwork
At Dupaco, teamwork makes the credit union world go round. Because we are in it for the relationships we have with our members—and improving their financial positions—departments work together to make sure each and every member is maximizing their potential savings, financial know-how, and being protected from fraud. You can expect to join Dupaco as a part of an interactive team that believes that by working together, we create wholesome solutions.
Because of our emphasis on teamwork, Dupaco was ranked as a Top 10 Best Mid-Sized Place to Work in Iowa by The Des Moines Register as a result of an employee feedback survey administered by Workplace Dynamics, LLC, a leading research firm that specializes in organizational health and workplace improvement.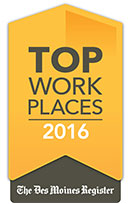 "To be a Top Workplace, organizations must meet our strict standards for organizational health. And who better to ask about work life than the people who live the culture every day—the employees," says Doug Claffey, CEO of WorkplaceDynamics. It is in delivering the Dupaco Experience that our staff have agreed that Dupaco is a top workplace.
Community is our middle name
Dupaco is a not-for-profit organization, and with that comes the desire to constantly serve our members and improve their financial lives. But it doesn't stop there; we are also actively involved in the communities we serve!
Outside our branches, employees have the opportunity to get involved in many volunteer activities that span the multiple communities we serve. In fact, volunteering in community service opportunities is part of our employees' yearly goals. Dupaco seeks out partnerships with organizations that are mission aligned and promote financial sustainability, like the alliance formed with the Housing Education and Rehabilitation Training (HEART) program, which helps Dubuque-area at-risk high school students develop sustainable careers.
The HEART Program is just one of the many unique community partnerships that Dupaco is involved in. From participating in charitable walks to delivering money talks to Scouting groups or dressing as Dollar the Dog at Dupaco-sponsored events, you can expect to join an organization that is well-known for its community involvement, which makes everyone feel good.


Save
Save
Save