Meet Coach Tonya McGlaughlin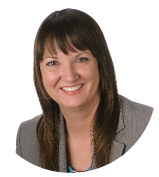 With 15 years of credit union experience under her belt, Tonya began working at Dupaco in 2002 as a loan officer, and has managed a handful of branches since then. Now the Branch Manager at Dupaco's newest facility on San Marnan Drive in Waterloo, Tonya enjoys helping members overcome their credit challenges.
"When a member follows my advice to establish or re-establish credit and they are able to buy a house or car. I love hearing, 'I wish I had come to you when I was younger, so I would have understood how credit works. Maybe I wouldn't have made the mistakes I have made.'"
Tonya is a firm believer in establishing credit and budgeting while someone is young. For her, it's important for the Great Credit Racers—and all young members—to understand their credit score so that they can get their financial wellness started the right way.
When it comes to building credit, she cannot stress the importance of capacity enough since that is one of the easiest components to a credit score that someone has the power to control. She also aims to make sure that those looking to purchase a new car or home are able to save the payments for 6 months—to see if they are able to stay within their budget with the estimated payment.