Meet Coach Marina Henriksen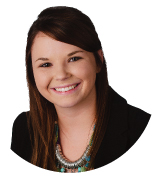 Marina began working for Dupaco six years ago as a teller. She is now a Member Service Representative who also works with the lending team. Helping members meet not only their financial goals—but also their life goals—is the most rewarding part about working at Dupaco.
Also a college student at Upper Iowa University, Marina has learned how to manage her own credit, and feels that it's essential for young adults to learn about and establish it. After all, it is easier to destroy a credit score than it is to rebuild it. And a credit score is also something that doesn't just exist out of thin air.
"Your credit score sticks with you for life and is very important if you ever want to buy a car, a house, etc. A lot of young people think if they haven't done anything then their credit is good, and that is definitely not the case."
Marina strongly believes that having a handle on one's budget is the key to success with managing a credit score. By understanding your budget, you will know if you can actually afford to pay for something with a credit card or not.
"Often members will come to me not knowing where to start and I'll have them fill out a budgeting sheet. Then they realize that at the end of the month, their balance is negative. That's when I can help figure out what to cut back on as well as getting their money to the right places."