Meet Coach Amanda Durham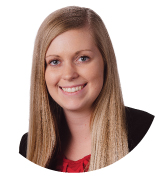 Born and raised in Dubuque, Amanda joined Dupaco as a Teller two years ago, and is now a Consumer Lending Consultant at the Hillcrest Rd. branch in Dubuque.
Her favorite part about working at Dupaco is working with the members, getting to know them and their situation, and helping them improve their financial situation. She notes that financial coaching is not a one-size-fits-all thing, and greatly depends on the individual's personal situation and goals.
"Every member is different, and there are so many different ways that we can help them."
For Amanda, credit is vital for our members to learn about and establish early because it has a valuable impact on their life as a whole—from getting their first job to purchasing their own vehicle or home.
When it comes to establishing a credit score, Amanda often starts members off with a credit card. But she cautions that they often need some coaching so that they understand how to use the card in a beneficial way.
And for those who are have faced collections situations—and are looking to re-establish their score—she sets them up with a plan to get the collections and judgments cleaned up and paid, and then move forward.