Scholarships
Warren A. Morrow Memorial Scholarship Program
Awarded annually by the Iowa Credit Union Foundation the Warren A. Morrow Memorial Scholarship is open to any Dupaco member who meets the scholarship's eligibility requirements. Applications were due by February 9, 2018, and were accepted online only.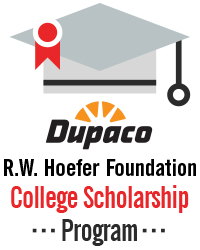 Dupaco R.W. Hoefer Foundation College
Scholarship Program
This year, the Dupaco R.W. Hoefer Foundation College Scholarship Program will award up to ten $2,000 nonrenewable college scholarships to full-time, first-year students planning to attend an accredited community college, trade school, technical college or university. The scholarships are funded by (member contributions to) the R.W. Hoefer Foundation. A minimum of two scholarships will be awarded to qualified students planning to attend a community, trade, or technical college.
Scholarship applications are judged on scholastic standing, extracurricular activities, financial need, and a creative piece. There are two options on the creative piece; applicants may only choose one:
Written essay: Entrants must submit an original, typed, 500-word essay addressing this year's topic.
Creative video: Entrants must submit a 150- to 180- second in length, original video illustrating this year's topic.
2018 scholarship topic: Pick your favorite Dupaco Money Clips video and illustrate how it may help you keep your financial stuff together as you prepare for college. Click here for Money Clips videos.
How to Apply: Applications for the scholarship program closed on February 26 at 5:00 p.m. CT. Winners will be notified and announced by April 13, 2018.

Like us on Facebook to stay up to date on the latest scholarship announcements as they become available!
---
Additional financing options for education
To assist with education financing, Dupaco offers student loan options to help cover the gap left by grants and federal student aid.