Community-Wide Garage Sales
Why does Dupaco sponsor the garage sale event? As a credit union, Dupaco is about people, thrift, and the community. That's also what the Community-Wide Garage Sale is about, and why it's a perfect fit for us.
2015 Community-Wide Garage Sale dates:
Saturday, April 25 in Dubuque & Manchester, Iowa

Saturday, May 9 in Platteville, Wis.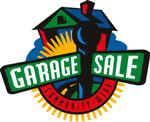 As part of the garage sale event, area residents are encouraged to participate in either of the following ways:
Host a registered sale. Those who host a sale as part of the Community-Wide Garage Sale and register their sale in advance (either online or at any Dupaco location beginning in March) will receive a complimentary Garage Sale Kit, available for pickup at any branch location. Sale locations registered by the deadline will be included in a printed Community-Wide Garage Sale Shoppers' Directory; all sales will be included in the online directory. Registering a sale is absolutely FREE, and is a community service made possible by Dupaco and garage sale sponsors in each community.
Shop at local garage sales. As garage sales are registered, their locations—along with a description of sale items—can be viewed online. Printed directories, including a map of registered sale locations, sale times and descriptions, will also be made available through the The Manchester Press and Dubuque Advertiser, andThe Platteville Journal.