Employee Benefit Program
Through our Business Partner Program, Dupaco staff can provide free, on-site financial education and credit union benefits to you and your employees. This service will enhance your employee benefits package without costing you anything. We'll schedule a visit to your operation that fits your needs, even during a third shift. If you're interested in learning more, contact Dupaco's Deb Schroeder at (563) 557-7600 / 800-373-7600, ext. 2750, or debs@dupaco.com.
Services extended through our Business Partner Program include:
Financial education through one-on-one or group interaction
Credit score education, including the ability to present individual credit reports
Savings and checking account opening, with the option for setting up direct deposit to save systematically
Payroll distribution to multiple accounts/Money-saving loan repayment options
Individual Retirement Account opening
Budget counseling
Financial planning and investment services, including: counseling on 401(k) plans and assistance with rollovers; long-term care policies; 529 College Savings plans; and trust services
Access to special promotions and offers
Create a completely customized and easily digestible training curriculum to meet the needs of your employees using our Financial Education Menu.
We also offer business partners these money-saving and user-friendly payroll services that will save you time, while helping your employees develop good money-management habits:
Direct deposit
Payroll deduction1
Net check2
Each of the above services are offered by Dupaco at no cost to your business or your employees, without any minimums or quotas, and the program can be altered to meet the needs of your organization. Why? Dupaco was founded on the principle of promoting thrift, and it's our job to help members cut costs, build savings, and improve their overall financial well being.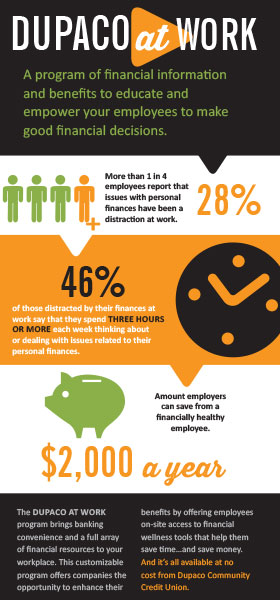 1 Payroll deduction allows your employees the option to route a set portion of their paycheck directly to Dupaco Community Credit Union each pay period. Once the deduction reaches the credit union, we then credit the deposit into one or multiple accounts as specifically designated by the employee. Deposits can be made to savings and checking accounts, IRAs, loans, even spousal and children's accounts!
2 Net check offers the ultimate in convenience by allowing your employees to have their entire paycheck deposited directly into Dupaco. As with payroll deduction, once the paycheck reaches the credit union, it can be deposited into multiple accounts as dictated by the employee.