Our Roots
It all began on July 17, 1948 when Dupaco Credit Union was chartered by the state of Iowa. Ten employees of the Dubuque Packing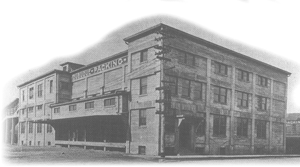 Company pooled $5 each, in combination with a loan for $123.20 from the Amalgamated Meat Cutters Local Number 150, to begin operations. The original Articles of Incorporation were signed by Marie B. Haupert, Melvin Schumacher, Alfred Carroll, R.W. Reavell, Larry Vize, William Moore, Ronald Nennig, Marjorie Alm, Nellie Tucker, and Manley Alm. Membership eligibility was restricted to employees of the Dubuque Packing Company and their immediate families. Services included share savings and personal loans. Operations were conducted in a portion of the Local 150 Union office at 16th and Central and later moved to 620 East 16th Street.

From these humble beginnings, Dupaco Community Credit Union membership has grown exponentially. And as our membership and branch locations have grown, so has our ability to provide an expanded range of cost-effective financial services designed to help members get ahead while meeting their lifetime financial needs.

The following historic points of interest have been compiled to illustrate Dupaco's evolution since 1948.

1950 Borrowed $5,000 from the Iowa Credit Union League to fund real estate loans.

1951 Bylaws amended to change the name to Dupaco Employees Credit Union.

1952 Agreement approved with the Dubuque Packing Company to allow employee payroll deduction of $3 per pay period. Operations moved to 760½ East 16th Street and Ed V. Neuhaus appointed full-time Treasurer.

1954 Christmas Club account introduced to promote thrift and assist members in saving for holiday expenses.

1958 Operations moved to a new facility at 1465 Sycamore Street in Dubuque. Became the first credit union in Iowa to have constructed its own office building. Following resignation of Ed Neuhaus, Keith W. Sheehy hired as Treasurer/Manager.

1962 Completed Sycamore office addition. Began the sale of money orders. The membership of Quality-Bilt Credit Union merged with Dupaco.

1964 Dupaco among the first credit unions in the nation to install an in-house bookkeeping system. Passbooks eliminated in favor of computer-generated statement mailings. Bob Hoefer hired to program and operate new state-of-the-art computer system.

1966 Bylaws amended to allow membership eligibility for in-laws and grandchildren of primary members. Allowed multiple savings accounts under a single member number.

1967 Bylaws amended to allow membership eligibility for sons- and daughters-inlaw of primary members.

1971 Treasurer/Manager Keith Sheehy resigned and replaced by Bill Fahey as Manager. Bob Hoefer named President and appointed to the Board of Directors.

1973 Field of membership eligibility expanded to include any person related to a primary member by blood, marriage, guardianship, or adoption. Open-end credit introduced.

1975 Bylaws amended to comply with newly passed Iowa Credit Union Modernization Act. Following dissolution of Denison Credit Union, services extended to Dubuque Packing Company employees in Denison, Iowa. Services also extended to employees of all Dubuque Packing Company plant locations.

1976 Share draft checking introduced to members.

1977 Joined the Iowa Clearing House Association (IACHA) for the clearing of share drafts, federal payments, and net check deposits. An on-line computer terminal system installed to allow live balance access. Bylaws amended to allow authorized employer groups the ability to extend the benefit of Dupaco membership and payroll deduction to their employees.

1979 Opened new office facility at Hillcrest and JFK Road in Dubuque. Received approval to participate in Iowa Student Loan program.

1980 An in-house data-processing system installed. Par value on the member share account changed from $5 to $25. Following resignation of Bill Fahey, Bob Hoefer appointed Manager and President.

1981 Debit card program, as well as Saver's, Jumbo, and money market certificates introduced.

1982 The Dubuque Packing Company closed. Bylaws amended to change the name to Dupaco Credit Union.

1983 Field of membership eligibility expanded to include employees of any food-related industry in Dubuque County.

1985 Field of membership eligibility expanded to include any person residing or working in Dubuque, Jackson, and Delaware Counties in Iowa. Discount brokerage and financial planning services introduced.

1986 Bylaws amended to change name to Dupaco Community Credit Union. In-house credit card processing system installed. Small business and home equity loan services made available.

1987 Presto telephone teller service introduced. Field of membership eligibility expanded to include persons living or employed in Jo Daviess County, Illinois, and Grant County, Wisconsin. VISA® Classic credit cards made available.

1988 Opened new branch office on Highway 136 in Dyersville, Iowa. Annual Tri-State-Area College Scholarship Program instituted. Prime Time Club introduced.

1989 Plan America® Financial Management Services made available. Full-service Real Estate Lending Department established. Rex Wellman named Director Emeritus.

1990 Construction completed on a new six-lane drive-up facility at the Hillcrest location and Saturday member service hours implemented.

1991 Completed major Hillcrest office expansion project.

1992 Opened new branch office location inside Eagle Country Market at 300 South Locust Street in Dubuque.

1993 Charter member Ronald Nennig named Honorary Board Member. Seven-year adjustable-rate mortgage program introduced.

1994 Policy modified to pay daily dividends on savings accounts. New corporate logo introduced. Community-Wide Garage Sale initiated.

1995 Dyersville branch operations moved into a newly constructed facility at 807 Ninth Street SE. Share draft checking package including MoneyCard and Presto telephone access introduced. Instituted risk-based pricing on consumer loans. VISA Gold credit cards made available. 24-hour Loan Line introduced.

1996 Credit Union website introduced at www.dupaco.com.

1997 Sycamore branch operations moved into newly constructed facility dedicated in the name of Director Donald R. Meyers. Formed Dupaco Financial Services, Inc., a wholly owned subsidiary. Online banking introduced. Received the Outstanding Philanthropic Organization award from the Eastern Iowa Chapter of the National Society of Fund Raising Executives (NSFRE).

1998 Opened new Key West branch location at 2245 Flint Hill Drive in Dubuque. Introduced Prime Cut home equity and Mini- Max loan products. Changed the Hot Dog Club to DoPack (Positive Action Club for Kids). Field of membership eligibility expanded to include persons living or working in Allamakee, Buchanan, Cedar, Clayton, Clinton, Fayette, Jones, Linn, Scott, and Winneshiek Counties in Iowa; Crawford, Iowa, and Lafayette Counties in Wisconsin; and Carroll, Rock Island, and Whiteside Counties in Illinois.

1999 Melvin G. Kiebel honored for having served over 40 years as a member of the Board of Directors. Introduced the Expressway Indirect Lending Program, which allows members to obtain Dupaco financing on-site at area auto dealer partners.

2000 Opened new branch office at 11375 Oldenburg Lane in Galena, Illinois. Entered into a strategic alliance with First Community Trust, N.A., to offer members a full line of trust products and services. Entered the Year 2000 with no computer difficulties.

2001 Introduced Less-Taxing Loan and VISA card products as well as instant 24-hour online loan approval at www.dupaco.com. Joined the Privileged Status surcharge-free ATM network.

2002 Opened new branch office at 490 East U.S. Highway 151, Suite D, in Platteville, Wisconsin. Introduced PowerLine open-end lending. David R. Hansel honored for having served over 30 years as a member of the Board of Directors. Introduced e-statements, account alerts, and online check images.

2003 Opened new branch office and drive-up facility at 5865 Saratoga Road in Asbury, Iowa. Introduced Cooperative Loan Giveback, Pick-A-Payment loan program, and long-term care insurance.

2004 Welcomed 325 members of the former Stockton Employees Credit Union in Stockton, Illinois, following a merger. Field of membership eligibility expanded to include persons living or working in Stephenson County, Illinois. Introduced free Credit History Lessons. Became the first credit union in Iowa to join Credit Union Service Corporation (CUSC), the credit union movement's largest nationwide shared branching network. Introduced Homemade Mortgage Payment program. Named recipient of the National Association of Community Credit Unions' (NACCU) inaugural Community Credit Union of the Year Award. Introduced free Online Bill Pay for qualified members.

2005 Welcomed 4,300 members of the former Community Plus Credit Union and added branch locations at 808 Wilson Avenue SW in Cedar Rapids, Iowa, and 1200 West Main Street in Manchester, Iowa, following a merger. Field of membership eligibility expanded to include persons living or working in Benton and Johnson counties in Iowa. Dupaco named recipient of CUNA Mutual Group's prestigious Roy F. Bergengren Award for High Achievement. President and CEO Bob Hoefer inducted into Credit Union Executives Society (CUES) Hall of Fame. Introduced Free Checking, 1st Rate Interest-Bearing Checking, and Health Savings Accounts. Became the first financial institution in the tri-state area to introduce 24/7 online mortgage applications at www.dupaco.com. Real Estate Department relocated to the Asbury branch in conjunction with the completion of extensive remodeling of the Hillcrest location.

2006 Purchased Bideaux, Smith, & Weber Insurance and formed Dupaco Insurance Services. Opened branch office in the new Hy-Vee at 400 South Locust Street in Dubuque and introduced Sunday service. Became the first financial institution in the tri-state area to introduce 24/7 Online Account Opening at www.dupaco.com.

2007 Welcomed 2,002 members of the former Rountree Credit Union in Platteville, Wisconsin, following a merger. Opened new branch office at 1100 East Business Hwy. 151 in Platteville. Opened new branch office at 3131 Williams Blvd. SW in Cedar Rapids, Iowa. Grew to 50,000-plus members. Expanded our relationship with Credit Union Service Network (CUSN) by opening our Hillcrest, Hy-Vee, Platteville, and Cedar Rapids locations as Credit Union Service Centers. Completed extensive remodeling of vacant space at the Asbury location.

2008 Introduced free Money Makeovers. Celebrated 60th anniversary of serving members.

2009 Presented the Crystal Performance Award by Raddon Financial Group (RFG) for achieving a top-10 ranking based on the RFG Performance Index™, a balanced scorecard measurement of growth, income, efficiency and margin management. Debuted new online banking system named Shine Online Banking.

2010 Added two full-service branches: in Dubuque at the corner of Pennsylvania Avenue and the Northwest Arterial, and in Cedar Rapids at 1st Avenue and 35th Street Drive SE. Replaced 25-year-old internal computer processing system with a new, state-of-the-art system.

2011 Dupaco named one of the top five mid-size employers in Iowa by the Des Moines Register. President/CEO Bob Hoefer named 2011 Credit Union Executives Society's Outstanding Executive of the Year. Recognized with the Crystal Performance Award by Raddon Financial Group as one of the 10 top Performing credit unions in the United States with more than $500 million in assets. Launched Dupaco app for mobile devices.

2012 After more than 47 years of service, Bob Hoefer retired as President/CEO of Dupaco, made effective at February 12 annual membership meeting. Joseph Hearn, 25-year Dupaco veteran, named President/CEO of the credit union. Corporate office moved to 3999 Pennsylvania Ave. in Dubuque.
2013 Mobile deposit is launched, allowing members to deposit checks by taking a picture with their mobile device.
2014 Dupaco merges with Iowa Community Credit Union, resulting in overnight growth of 10,000 members and six additional branch locations.
2015 Dupaco opens its 19th branch in Peosta, Iowa. The Peosta Learning Lab provides a fresh concept and technology that underpins the credit union's mission to improve each member's financial position. Among the new technology, a Live Video Teller was introduced. The live video teller is a machine that allows members to make teller transactions with a live teller, while allowing on-site staff more time to help members at the branch with additional credit union advice and services. The Peosta Branch Learning Lab will focus on improving ways in which credit union staff help members manage their money. These insights will provide enhancement opportunities at Dupaco's other 18 offices.
2016 Dupaco launched a brand new campaign, Thank Use, to reward participating members for their use of the cooperative. Rewards were based upon an active checking account, enrollment in eStatements, use of a Dupaco VISA credit card, loan interest paid, deposits, and longevity. Over 45,000 members unlocked more than $2.85 million in Thank Use, which was paid back to eligible members on October 20. Dupaco moved it's Walmart branch across the street its new branch on San Marnan Dr. in Waterloo, Iowa. Modeled after the Peosta Learning Lab, the San Marnan branch offers a similar look and feel, with a rich cultural feel and 2 live video teller machines to allow branch staff to spend more time delivering personalized products, services and advice to its members. During the same time that the Walmart location moved to San Marnan, the Covenant branch in Waterloo now hosts a live video teller to serve its members, and on-site staff come in for quarterly visits to assist members with additional credit union advice and services. Field of membership eligibility expanded to include persons living or working in Adair, Boone, Buena Vista, Cass, Cherokee, Chickasaw, Clay, Dallas, Dickenson, Emmett, Floyd, Franklin, Hamilton, Hancock, Hardin, Harrison, Howard, Humboldt, Ida, Jasper, Keokuk, Kossuth, Lyon, Madison, Mahaska, Marion, Marshall, Mitchell, Monona, O'Brien, Osceola, Palo Alto, Plymouth, Pocahontas, Polk, Pottawattamie, Poweshiek, Sioux, Story, Warren, Webster, Winnebago, Woodbury, Worth and Wright Counties in Iowa.
2017 Dupaco began offering rewards Visa credit cards and Launchpad savings accounts. Existing undergraduate student loan options were enhanced and refinance options were added. Dupaco also hosted "Life After Graduation" seminar events in Cedar Rapids, Waterloo and Carroll - which shed light on the student debt crisis and helped inform high school students on how they could prepare for the cost of college. The R.W. Hoefer Foundation partnered with Dupaco to offer the Dupaco R.W. Hoefer Foundation College Scholarship Program, which awarded $20,000 in scholarship awards to first-time, first-year college students. The Great Credit Race was held from May through October - a challenge for participants to build their credit score from 0 to as high as possible in six months. The Mullan Avenue branch in Waterloo was renovated with a fresh look that mirrors the San Marnan Learning Lab and contains a Live Video Teller to provide expanded service hours and free up in-person staff for consultations thanks to the technology. Dupaco celebrated reaching the milestone of 100,000 members. The Thank Use campaign came back for a second year, rewarding participants of their use in the cooperative. Nearly 49,000 members collected more than $3.17 million in Thank Use cash by using their credit union's services - loans, savings, eDelivery, and credit and debit cards.
2018 Dupaco celebrated 70 years of service to its members. To honor this celebration, 7Hills Brewing Co. in Dubuque, Iowa, crafted Brewpaco, a seasonal Belgian Whitbier. A new Learning Lab branch was constructed on Carlson Way, in Marion, Iowa and a Live Video Teller machine was installed in the NewBo City Market to provide downtown Cedar Rapids members access to their money. Shine Online Banking receives a fresh look and several new features; including advanced fraud protection, a simplified loan application, and ChangeUp Savings – which rolls debit purchases up to the nearest dollar and puts the "spare change" into the member's savings account. Forbes ranks Dupaco as the No. 1 credit union in Iowa. Thank Use rewards more than 50,000 participating members with over $2.6 million in their pockets.